Glossop Parish Church ( All Saints) , Old Glossop.
Extracts from "Neath Ancient Moss" by friends of Glossop Parish Church and from Glossop, the Official Handbook 1948
There have been several church buildings on this site, probably since shortly after the Norman conquest. The present structure is the result of a rebuilding programme which began in 1831 to replace a late mediaeval church. The first stage in the rebuilding was in 1831 to replace the nave using the old buildings as quarry.
The chancel followed shortly afterwards but the original short tower and spire was kept for a further twenty-two years before it too was replaced. The nave of 1831 was a very poor building. There was a move to replace it when the tower was rebuilt in 1854, and again in 1887 but money was not forthcoming and it waited until 1914 to be rebuilt. The chancel was rebuilt and extended to its present length in 1923.
The parish registers date back to 1620. It is recorded that William Bagshaw, the ";Apostle of the Peak" was Vicar of Glossop.
This is the present All Saints Parish Church, and owes its place in history as being built by three generations of one family of architects (namely the Hadfields) over a period of 70 years starting as early as 1837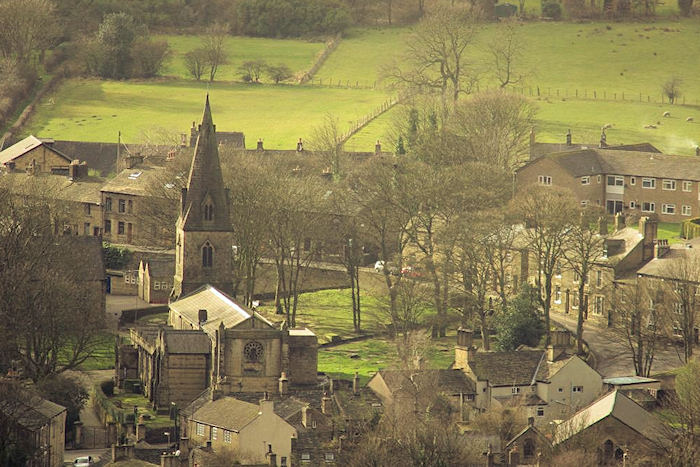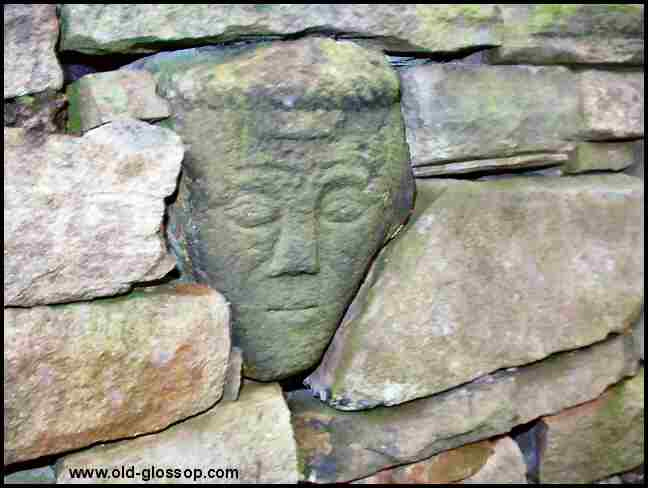 It is rumored that the original mediaeval church which was built after the Norman conquest was built on an ancient piece of holy ground. This of course was common practice by the early Christians who were trying to destroy by integration all traces of the "Old Religion".
This head which is under protection of a householder in Old Glossop was found near Mossey Lea and other primitive carved stone heads where found in the Vicarage garden among stones that had been taken from the original Christian Mediaeval Church area.
This is more proof that although the early Christians had taken in the new religion they did not really trust it enough to not include some of their ancient heads in the foundations as an appeasement to the "Old Religion".
The wooden Offices at Haukshead Mills where bought by Mr Jackson from the Parish Church where they had been used as a protective nave, during remedial work on the church

Parish Church Building of nave c1913

Parish Church Dewsnap memorial

Church Street Laying of Chancel foundation stone 1923

Parish Church from NW

Adam Pyle-Wilson

Parish Church Font

Parish Church nave c1918

Laying the chancel foundation stone 1923

Parish Church c1835

Laying chancel foundation stone 1923

Rehearsal for laying chancel foundation stone 1923

Parish Church Altar and reredos c1978

Charles Dudley Hart

Choir processing past Parish Church

Glossop Parish Church c1975

Old Glossop Churchyard

Old Glossop Church Street

Old Glossop Parish Church and Old Cross

Glossop font

Old Glossop Path Parish Church

Parish Church Gates

Parish Church Nave c1912

Glossop Parish Church from west

1914

1914ext

All Saints from Wesley St

All Saints Parish Church bell

A Saints Parade

Ancient Stone head

Chancel Plan

Chancel Elevation SE

Chancel Plan

exterior1

exterior2

exterior3

exterior4

Glossop Parish Church from these choolhouse1904

Groups at Parish church

Image15

interior1

Laying the chancel foundation stone 1923

medieval stained glass

modern stained glass

Old Glossop Church High Altar

Old Glossop Church porch

Old Glossop Churchyard from south

Old Glossop Churchyard

old glossop PC after 1924 2

old glossop PC after 1924

Parish Church post 1924

Parish church after 1924

Parish Church Choir and officers c1959

Parish Church Christmas Card 1910

Parish Church Christmas Card 1922 Obverse

Parish Church Christmas Card 1922 Reverse

Parish Church Easter Card 1921 Obverse

Parish Church Easter Card 1921 Reverse

Parish Church Easter Card 1923 Obverse

Parish Church Easter Card 1923 Reverse

Parish Church Easter Card 1924 Obverse

Parish Church Easter Card 1924 Reverse

Parish Church from pre 1914

Parish Church from SE pre 1914

Parish Church Sunday School Sermons leaflet 1910 Outside

Parish Church Sunday School Sermons leaflet 1914

Parish Church remains of medieval spire

ParshChurch c1908

Procession 1

GLOSSOP ALL SS PROPOSED S ELEVATION 1913

GLOSSOP ALL SS S ELEVATION

ALL SAINTS CHURCHOG 1849

Temporary Nave

Wedding 1912 jQuery Slideshow by VisualLightBox.com v5.3